Office of the Common Interest Community Ombudsman
Condominium, Cooperative, and Property Owners' Associations
The Office of the Common Interest Community Ombudsman offers assistance and information to association members regarding the rights and processes available to them through their associations.
The Common Interest Community Board is separate and distinct from the Office of the Ombudsman. The Board is the regulatory body responsible for licensing association managers, certifying certain employees of licensed management firms, receiving annual reports filed by associations, and registering condominium and time-share projects registrations.
---
Guidelines for Review of Complaint Submissions
Before You Submit a Complaint or Notice of Final Adverse Decision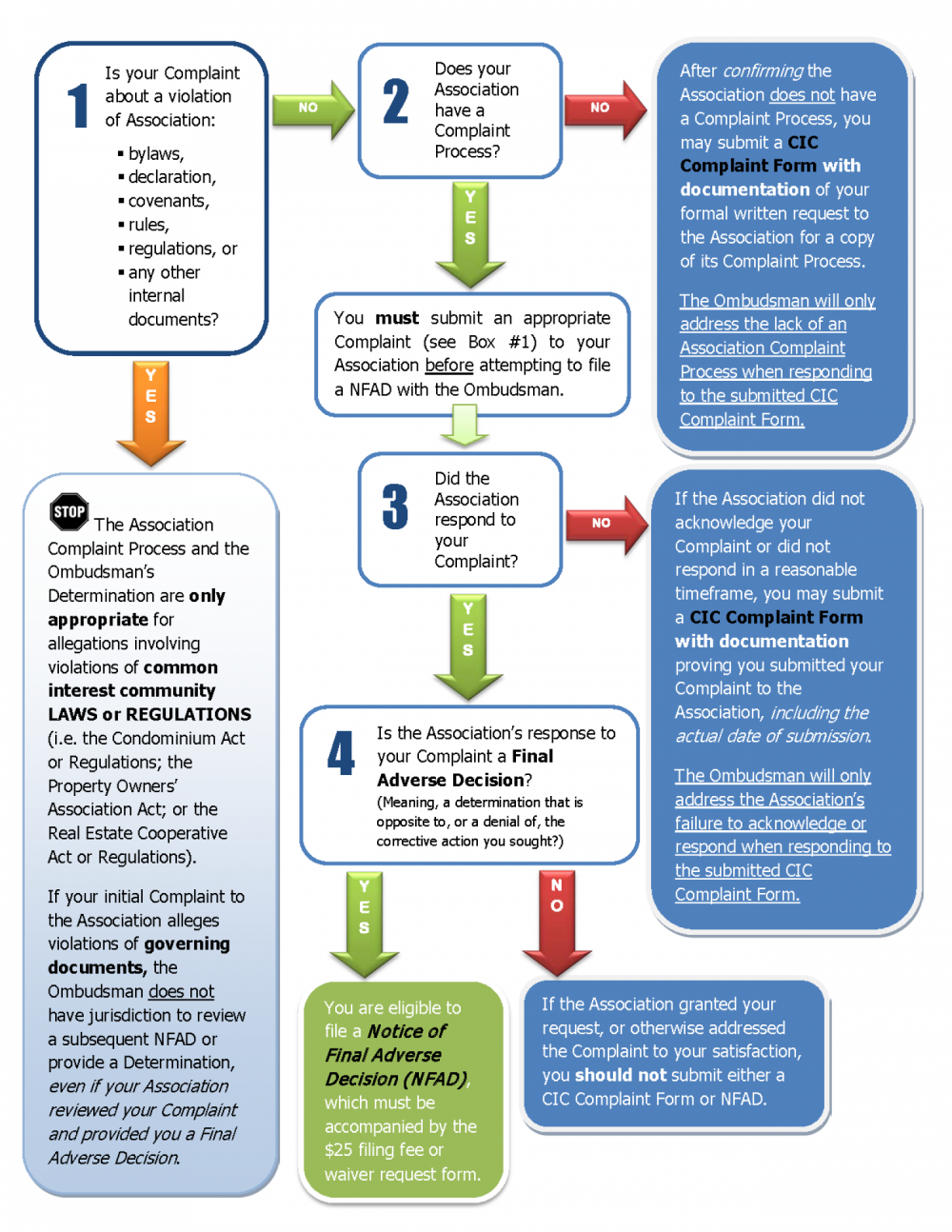 View PDF flowchart (print-friendly).
What is a Common Interest Community?
Common Interest Communities (CICs) are designed for community living by a developer (also known as a "declarant"). The community is created by a specific set of legal documents, generally drawn up by the developer and subject to change by the membership (owners). When the developer relinquishes control of the community, the community's affairs are then governed by the Association of owners through an elected board. The Association board is authorized by law to enforce rules and restrictions (for example, regarding aesthetics), and to collect mandatory assessments to pay for maintenance and improvements to common elements (such as a pool, clubhouse, or just a road or signage). The obligation for owners to pay for insurance, maintenance assessments, and upkeep of shared property other than their own units/lots is the essential characteristic of a Common Interest Community. The relationship between owners and the Association is a financial and legal one. Neighborhood or civic associations with voluntary dues are not Common Interest Communities under Virginia law.
What can the Ombudsman do?
Assist members in understanding and exercising their rights in resolving issues with their common interest community associations (condominiums, property owners' associations, and cooperatives). Issue non-binding explanations (not interpretations) of laws and regulations governing Associations. Offer referrals to alternative dispute resolution services. Assist members in using the procedures and processes available to them in their association to resolve conflicts within the community. Receive complaints concerning timeshares, and refer potential violations of timeshare law or regulations to the Common Interest Community Board for further action as warranted. (View complaint form.) Receive "notices of final adverse decisions" from individuals who believe an Association violated common interest community laws or regulations. Such notice must be filed on the Board-approved form within 30 days of an Association's notice to a member of its final decision, accompanied by a $25 filing fee (required by law).
What can't the Ombudsman do?
Offer legal advice or interpretation. Interpret Association documents such as governing documents, bylaws, etc.
Statutes
Regulations
Pending regulatory action (proposed changes, public hearings, etc.) 
Other Documents
Read Best Practices for POA Declarations adopted 12/10/15
Filers must read and understand the Ombudsman Regulations.
---
Adobe Interactive PDFs allow you to type your information into the form and save a copy on your computer for your personal records. You must print, sign, and return the application to the address provided on the form.
Adobe Reader version 9.0 or later is required for these forms. (Some versions of Adobe Acrobat 8.0 or older will cause errors when using the interactive PDF.) Download the current Adobe Reader to view and print.
NOTE: If Adobe Acrobat software is already installed on your computer, make sure to open the file using Adobe Reader.
---
Problems opening interactive forms? 
PRO TIP: First, try right-clicking on the link, saving to your computer, then opening from the latest version of Adobe Reader (not Acrobat).
Help for Google Chrome users here | Other troubleshooting resources here
---
For Association Members
For CIC Associations
Visit the CIC Board page for other CIC-related forms.
The Office of the Common Interest Community Ombudsman issues Determinations in limited circumstances, upon review of eligible Notices of Final Adverse Decision resulting from the submission of a Complaint through an Association's Complaint Procedure.
An Ombudsman Determination is not a judicial verdict, court decree, Board order or official opinion. It is legally non-binding and strictly limited to laws and regulations pertaining exclusively to common interest communities.
Determinations are subject to public disclosure under the Freedom of Information Act, and the Ombudsman's Office makes them available online to serve as an information resource on common interest community topics.
Recent Updates to State Laws Affecting Associations
Annual Reports | Office of the CIC Ombudsman
Newsletters + Articles
---
External links and associated content are provided for informational purposes only. They do not constitute an endorsement or an approval by DPOR of the information, services, opinions, or products of the individuals or organizations.
Resources
Community Associations Institute (CAI)
National Headquarters
6402 Arlington Blvd., Suite 500
Falls Church, VA 22042
Website: http://www.caionline.org
Phone: (703) 970-9220 | Toll-Free: (888) 224-4321
Central Virginia CAI Chapter
P.O. Box 5118
Midlothian, VA 23112
Website: http://www.cvccai.org
Southeastern Virginia CAI Chapter
1300 Diamond Springs Rd., Suite 400
Virginia Beach, VA 23455-3645
Phone: (757) 558-8128
Website: http://www.sevacai.org
Southwest Virginia CAI Chapter
P.O. Box 21391
Roanoke, VA 24018-0141
Phone: (540) 339-1224
Website: http://www.caiswva.com
Washington Metropolitan CAI Chapter
7600 Leesburg Pike, Suite 100-W
Falls Church, VA 22043-2004
Phone: (703) 750-3644
Website: http://www.caidc.org
---
Time-Share Exit Information
The Coalition for Responsible Exit provides information for owners who are looking to safely sell, change, cancel or exit their time-share. The Coalition was established by the American Resort Development Association along with time-share developers and other industry partners.
Website: https://responsibleexit.com/
Phone: (800) 515-3734
---
Links and associated content are provided for informational purposes only. They do not constitute an endorsement or an approval by DPOR of the information, services, opinions, or products of the individuals or organizations.